31 Jan
Jennifer McMurray, director
Jennifer is the director of Little Lambs Preschool.  She
earned her Master's degree in Child Development from the School
of Social Work at the University of Pittsburgh.  She also earned a
Bachelor's degree in Early Childhood Education from Messiah
College.  Jennifer has worked with children for over 19 years.  She
has been the director of Little Lambs since its creation in 2010.
Before staying home with her children for a few years, Jennifer was
a teacher in the Harrisburg School District for 7 years.  Prior to that,
she worked as a child therapist, foster care case worker, nanny and
day care teacher.  She recently volunteered in the nursery and her church's Wednesday night
preschool group. Jennifer feels so blessed to be a part of Little Lambs Preschool and enjoys getting
to work with all of our students and families.  Jennifer resides in the Harrisburg area with her husband
and 2 children.
Heather Hubler, office administrator
Heather currently serves as the office administrator for Little
Lambs Preschool.  She has her Bachelor of Science in Biochemistry
and Molecular Biology from Lebanon Valley College and uses her
degree to help design the classroom science centers as well as to
coordinate the school's science night.  She has served in many child
related roles at Devonshire Church, including nursery coordinator,
preschool teacher, and mentor/craft coordinator of the Wednesday night
children's ministry.  Heather just recently moved to West Hanover Township
where she lives with her husband and four children.
Jacqueline Garrison, office assistant and aide
Jackie has been working at Little Lambs Preschool since 2013 as an office assistant and substitute.
She will be expanding her role this school year by also becoming a teacher's aide in the 4-year-old
classroom. Jackie graduated from Shippensburg University with a Bachelor's degree in Elementary
Education. She has over 10 years of experience working with children in a daycare/preschool setting
in the Harrisburg area with children ranging from infants through school aged. Jackie enjoys
creating jewelry, watching football, going to the beach and visiting her family in Japan.
Lisa Fleming, 4-year-old teacher
Lisa has been a teacher at Little Lambs for the last five years and
is currently taking classes to earn her Child Development Associate's
Certificate. She is pediatric first aid certified and actively seeks out
and attends trainings related to preschool teaching. She has been
involved in Devonshire Church's children's programs for the past
fifteen years serving in all capacities from mentoring to
coordinating and directing. She has also spent most of her adult life
in the childcare profession. Lisa is very excited for another year of
helping children grow and learn, and of course giving lots of TLC.
Emily Eckert, 4-year-old teacher
Emily is a graduate of Shippensburg University with a major in speech communications.  This is
Emily's fourth year at Little Lambs Preschool.  She is extremely excited to be returning and to have
the opportunity to have her own classroom.  She is enthusiastic and has a great passion for working
with children; therefore she is pursuing her teaching certificate.  Emily is an active member at her
church and has been involved with the youth group since 2009.  She is also a mentor to a 7th grade
student that is preparing for the Rite of Confirmation where her responsibility is to help the student
understand the Christian faith and how faith guides our everyday life.  She is looking forward to the
school year and to watching your children grow and learn!
Jaimee Zohn, 4-year-old teacher
After completing her Bachelor's degree in Special Education at Penn State University, Jaimee went
on to earn her Master's degree in Curriculum and Instruction in Early Childhood Education from
Shippensburg University. She spent several years as a home visitor in Perry County working with
families who were pregnant or had children under the age of 5 on parent education and child
development. Before having her own children, she spent 7 years as a preschool special education
teacher for the Capital Area Intermediate Unit teaching children with special needs. Jaimee lives in
the Harrisburg area with her husband and two sons.
Stacy Dorman, 3-year-old teacher
Stacy graduated from the University of Delaware with a Bachelor's degree in Early Childhood
Education.  Out of college, she spent several years as a preschool teacher and on-site director
at a church-affiliated, child-care center in Enola.  She then taught both Jr. Kindergarten and
Kindergarten at Harrisburg Academy until having her own two children. Stacy continues to
substitute there for 3-year olds through 4th grade.  In her spare time (lol!), she spends time
volunteering in her kids' school, occasionally teaching baton, helping with her church's Bible
school, and along with her husband spends many hours coaching &/or cheering on their kids'
many sporting events.  Stacy is super excited to be back in the classroom on a regular basis and
can not wait to meet her kiddos!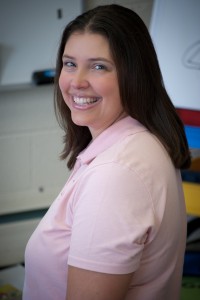 Melinda Bloss, 2-year-old teacher
Melinda Bloss is the 2-year old teacher for Little Lambs Preschool. This
is her fifth year with the school.  She affectionately goes by "Mindy."
Melinda was the Vacation Bible School director for three years at her
home church. Melinda was also a Nanny for many years to three
children in the Harrisburg area. She is pediatric first aid certified
and is currently taking classes to obtain a Child Development
Associate's Certificate. Melinda is married, has three young children
and currently lives in Harrisburg where she was born and raised. She
loves working with children and helping them explore new things.
Teacher's Aides
Kelly Brandenburg
(coming soon)
Aly Lim
Aly Lim graduated with a Bachelor of Science in Filmmaking from Rochester Institute of Technology
in New York.  She's worked with children in films, photography, after-school programs and as an
emergency medical technician.  She is also a co-founder of Central PA's premier scrapbooking store,
Times to Remember, in Hershey.  In 2000, she started a scrapbook program for children staying in
the Child Life Department at the Penn State Hershey Medical Center.  Aly is currently pursuing a
Master's degree through Penn State.  She is certified in CPR and first aid and feels truly blessed that
God's path has brought her to the Little Lambs family.
Stacy Stargel
Stacy is a 2-year-old teacher's aide for Little Lambs. She has worked in youth and children's ministries
for over 12 years and is currently one of the preschool teachers at her church, Living Water Community
Church.  Stacy has also helped with VBS for the past 10 years. She has previously received training in
CPR and first aid.  In addition to being an aide in the 2's class, she is a mother of a preschooler, a
a first grader and a third grader.
Kathy Umberger
Kathy is a teacher's aide for Mrs. Fleming's 4-5-year-old class as well as an aide for the TTh 2's class.
She received a degree in Early Childhood Education from Messiah College and has over 20 years of
experience teaching children. This is Kathy's second year as an aide at Little Lambs Preschool.
When she has time, Kathy enjoys scrapbooking and baking. She is also involved in the ESL (English
as a second language) program at her church. Kathy lives in Harrisburg with her husband and three
grown children. She is so excited to be back working with preschoolers again.